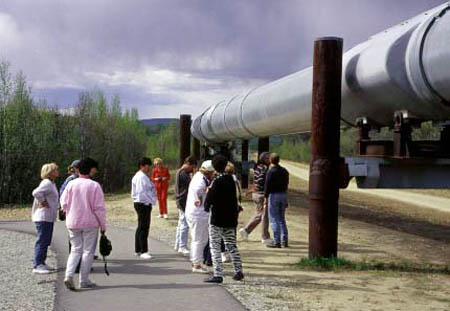 Trans-Alaska Pipeline
Contributor:
Steve Stapp
Cruises Only, L.L.C.


Click Here to Send a Postcard
The Alaska Pipeline is one of the great engineering feats of the modern world, and a favorite of visitors. Included in the Fairbanks city tour, by most tour companies, the pipeline's history and statistics amaze everyone who stops to view this marvel.

The Alaska Pipeline one of the largest pipeline systems in the world. It's also one of the most difficult engineering feats of our time, and it's the only way to get crude oil off the formidable Alaskan North Slope to the oil tankers waiting in Valdez, the nearest ice-free port. Construction required special consideration because of Alaska's unique environment. It was specially designed to be environmentally responsible, from earthquake and permafrost protection to bridge construction down to the pipeline insulation. In some places, the 48 inch pipeline is elevated above ground and in others it is buried 8 to 16 feet below.

Construction of the Trans Alaska Pipeline System began April 29, 1974 and was completed June 20, 1977. Costing approximately 8 billion dollars to build, the pipe has a diameter of 48 inches and runs approximately 800 miles from Prudhoe Bay to Valdez. There are eleven pump stations located along the route which help move the oil at an average throughput of 47,000 gallons per month, a velocity of 6 miles per hour. The trans-Alaska pipeline can move oil at rates approaching 88,000 barrels an hour.

Once the oil has reached Valdez, it is loaded into waiting tankers, about 70 every month. These tankers are escorted to and from the port by specially equipped Escort Response Vessels to ensure safe passage to the sea.