Alaska Marine Highway Adventure: April 25th-May 9th
After a long Alaskan winter we were ready for an adventure. We decided that we would come up the inside passage via the Marine Highway with our new 9 week old (Caleb Hunter Law. We planned a 4 week trip starting in Acme, Washington at Cathy's parents place working our way back via the Marine Highway and road to Anchorage with photography, fishing, camping, hunting at the top of the list. We had some new challenges now that we were traveling with an infant, but we were determined not to let it slow us down to much.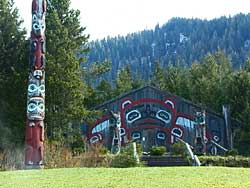 To begin our trip we took a late night flight out of Anchorage to Seattle, amazingly our new son, Caleb slept throughout the entire flight. The coach seats on Continental were extremely tight but the view out the window made up for the discomfort as the northern lights streaked across the horizon.
Cathy's mom picked us up at 5a.m. in the morning in our 1991 Volvo 740 that we were purchasing so that we would have a family vehicle, it would serve as our base station and camping rig for heading up the highway. We spent 3 peaceful days visiting with Cathy's family with Caleb making his rounds from one eager family member to another.
We decided to drive to Prince Rupert Canada, about 1200 miles away. It saved us about $700.00 by not getting on the Ferry in Bellingham. The drive through Canada was picturesque with farmland and mule deer in abundance. My favorite part was coming into Prince Rupert a beautiful community along the ocean and where we would catch the Ferry. Little Caleb did great on the drive sleeping much of the way and giving us a good excuse to pull over every 3 hours for his feeding time. On the evening of the 30th we boarded the Alaska Marine Highway on route to Ketchikan on the vessel Taku. It was about a 5 hour trip in the dark and we camped out next to some chairs on the Port side. We went through some large seas that caused our ship to swell enough to make it hard to stand up.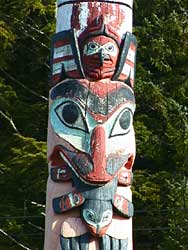 We arrived in Ketchikan at 3:00 a.m. and got a hotel at the Best Western Landing right next to the Ferry, they only charged us for 1 night even though we were getting in that early which gave us the chance to finish the sleep we started on the ferry. We were in Ketchikan for only the day and we really wanted to cover the town so we started early by driving as far north as we could to a old cannery with beautiful ocean views along the way. We then came back in to town and explored several of the attractions including: Discover Center, Totem Heritage Center, Saxman Native Village, Street Creek Boardwalks as well as walked around the local shopping centers. I found the Discovery Center to be a highlight offering museum quality displays and a video about Southeast. Also at the top of my list was stopping several miles south of town to photograph Totem Bight, with beautiful Totems overlooking the rocky shore of the ocean.
The next day we were off to Prince of Wales Island the third largest island in the United States. It was a 4 hour ferry ride over to Hollis, the port of entry. We had water breaking over the bow and rain coming down horizontally, we were in the bow of the boat and some local children were really getting a kick out of the water hitting the windows. We met some new friends Richard and Barbara Larson from Coeur d'Alane Idaho. They are retired and our spending their summers up in Alaska chasing fish and exploring. They have a 19 ft. Fiberglass "Glas Ply" with an enclosed cabin that they did themselves. I really enjoy looking at boats as Cathy and I are planning on buying a 22 ft cabin boat for exploring Prince William Sound, Resurrection Bay, and Kachemak Bay.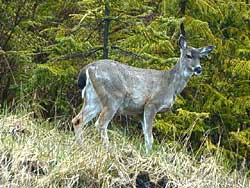 Upon unloading at Hollis we headed into Craig, about 30 miles from Hollis where we got off the Ferry. Craig, with a population of about 2500 people is a beautiful community jutting out into a gentle bay. With several harbors and many fishing boats it seemed to be a super place to live and raise children except for the 12-14ft of annual rain. We tried to drive all of the roads and see all of the communities but with over 1,000 road miles on the island it was a bit of a challenge. We did come close though seeing most of the communities including: Hydaburg, Klawok, Naukati, Thorne Bay, Whale Pass, and Coffman Cove. Naukati celebrates a yearly event called the Skunk Cabbage Festival, over the 4th of July weekend. The largest cabbage leaf wins a cash prize and then there is a parade and potluck. The roads were mostly gravel but in general pretty good shape which was a good thing since we were driving a Volvo. Several locals mentioned in a that they did not remember seeing a Volvo on the island.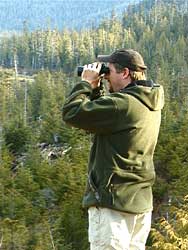 We did an assortment of activities on Prince Of Wales Island including: Photographing wildlife and totem poles, hunting for Black Bear, counting black tail deer that we saw in abundance and generally enjoying the wild atmosphere and beautiful ocean vistas.
The highlight of the trip for me was when I was able to hook up Bill Whicker and family, Tony and Troy who are staring a new eco-tour company out of Craig, you can look at their current web site at: http://www.seaatours.com Bill offered to run me out on a bear hunt in his 22 ft ocean boat in exchange for some web/techie help which I was very happy to offer. We went out on a Saturday evening and the weather was very clear and the seas were pretty mild. Right away we spotted a nice bear on the beaches, we did not get that one but a couple of hours later I spotted one on the shore of Trocadero bay. We were able to beach the boat about 1/4 mile down wind from the bear and did a successful stalk of the bear. When I got to the spot where the bear had been it had moved up into a clear cut. After crawling over the edge of where the tide meets the shore, I was able to get a rest from a stump and take a shot which dropped the bear. The bear was beautiful with a deep black glossy coat with no rub marks and measured just under 6 ft. I took the meat to a local meat processor called Krueger's who are going to make it into, Pepperoni sticks, Summer Sausage and Italian Sausage and ship it to us in Anchorage. I will be getting the hide turned into a bear rug and most likely hang it in the office to remember our time on the island, especially the fact that it was Caleb's first real trip with us.
Back in Ketchican we had one day to do some hiking before we flew out the next day for Anchorage. It was necessary for us to cut our trip short to tackle a new publication we had received. So we parked our car in 1 month storage and will be returning on the 30th of May to finish the inside passage adventure.